Robert Goodall
---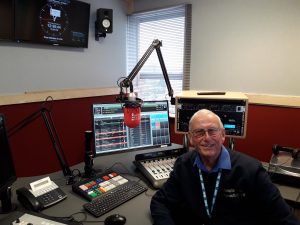 Since August 2016, I joined the enthusiastic group of volunteers at Hospital Radio
Plymouth, a charity which I am very passionate about. This is nothing new to me, I was indeed a volunteer in the late 70's and early 80's in the days of the vinyl's, the
LP's and 45 rpm's records. Presenting a weekly 90-minute programme from the studios situated in Greenbank Hospital, very much like I am doing these days.
Sadly, due to the work pattern of my daytime employment, I had to step down.
Now I'm back, doing the job I enjoy. Technology has moved on at a fast pace since those early days, gone are the record turntables, the LP,s and 45 rpm records. In are the fiber optics, transmitters and a vast array of computers which with my help drives the programme you listen to. Although CD's are still used, most of the music is computer generated, offering around the clock entertainment.
Although the radio station has been transmitting live on FM 87.7 MHz in the Derriford Hospital campus for a number of years. Programmes are also streamed via the internet which can be heard just about anywhere throughout the world.
As a Volunteer, I do enjoy visiting and talking to patients throughout the hospital on
my duty days, obtaining their choice of music for transmission during the course of the evening programmes. As you can appreciate, this work can be very rewarding both to me and a tonic for the patient.
Robert Goodall,