Our History
---
It started like this:
In the 1950′s the Toc – H organisation commenced broadcasting through the GPO phone network to the nine city hospitals on Saturday afternoons when Plymouth Argyle were playing at home. This proved highly successful.
Then in 1967, the Plymouth Lions Club commenced a programme of music called 'Disc Date' every other Wednesday evening carrying on as long as requests lasted for Mount Gould hospital.
The next stage was in 1969 when Jimmie Constable, Tom Hepple and Joe Pengelly, a professional broadcaster working for the BBC, teamed up to produce a weekly show. This proved so popular that it was decided to secure bigger premises.
In late 1969, 44 New Street on the Barbican became the first permanent home for the station that now became known as Hospital Radio Plymouth. On the 2nd October 1969 the then Lord Mayor Alderman George Creber officially opened the studio.
The first programmes were transmitted on Tuesday and Thursday evenings and went to all the city's hospitals. 
Premises! When we outgrew 44 New Street the next move was to the Ladies' Hospital at Lockyer Street in March 1973. This venue lasted until the late 1970′s when a move was made to the basement of a property in Nelson Gardens, Stoke owned by the Trust.
The Nelson Gardens Control Room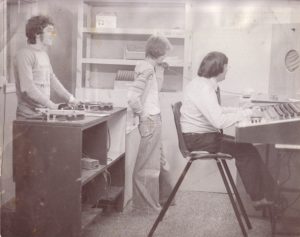 From there a move was made to Greenbank Hospital , Below you can see a picture of the control room and studio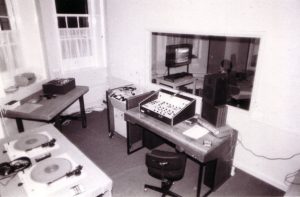 and then in 1994 we went across the road to Freedom Fields.
In 1998 we re-located to Derriford Hospital .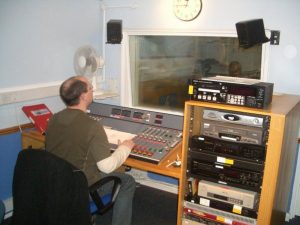 Ten years at Derriford was been aptly celebrated by us becoming HBA Station of The Year 2008.  In 2016 we were asked to move again , this time the location was unknown.  Various options and proposals looked at , eventually in late 2016 , early 2017 with the hard work of Andrew Hill and the Hospital Estates dept, a studio and office area was made available in a building called Bircham House.
In late 2017 we were able to purchase equipment and update our computer playout system enabling us to produce and provide high quality programming to our listeners at our Hospital. A huge thanks to all the people who have helped to fund this stage of the process.