Positive Spin – with Dave McFarlane
---
Scheduled on: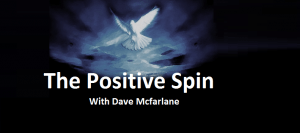 Mad about media from an early age, Dave first became involved with radio in the 90s (that's the 1990s) and has presented and produced a wide range of programming for a number of stations in the UK.
Dave has also worked successfully as a freelance Musician. He loves Christian music and brings a strong faith emphasis to his latest show, The Positive Spin.
THE SHOW
Each week Dave checks out the latest releases in the world of Christian Music and plays one or two familiar favourites. Discover more about the artists themselves and draw from the source of their inspiration. Plus he delves into some of the lighter stories to have hit the headlines over the last seven days and gives you some gentle encouragement to help you through the next seven.
---
In: