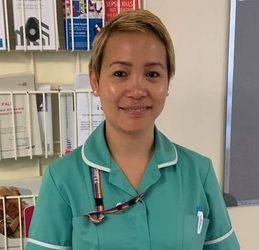 Marites Dato is our NHS Star Of The Week #4!
Marites has a degree in Physical Therapy which she earned in the Philippines. She joined the NHS in 2015 and has worked on Monkswell now for 6 years.
Marites enjoys travelling with her husband. Their favourite place is Venice and they hope to return there someday. She also enjoys cycling with her husband.
Marites wants to say a big thank you to her Monkswell family and also a big thank you to Juliet Richardson for nominating her.
Marites Top Three Songs
Heal the World Michael Jackson
Thanks to you by Tyler Collins (For Her Family)
After all these years by Journey (For Her Husband)