Steve Glanville
---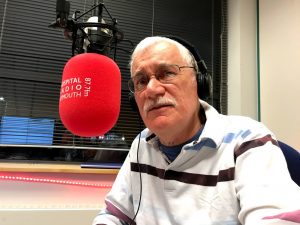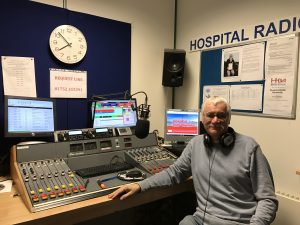 Hello. We all know that we have red corpuscles in our bloodstream, but I'm afraid to say I have something else as well… Hospital Radio!
Well I have been doing it since "God was a boy" and I know, you'd think I should have mastered it by now, Hey Ho.
So why do I do it? Well it's such good fun, playing ALL types of music for the patients, and you never know who you will meet.
A while ago, I was speaking to this chap lying prostrate in the Hospital bed. He had a broken leg, and had all manner of scaffolding and screws protruding from it.
"What do you do for a job?" I asked.
He looked nervous and beckoned me closer.
"I don't want them to hear" He whispered, looking around at the other patients.
"I'm an Accident Prevention Officer, slipped on a banana skin at the bus stop!"
Couldn't write it, could you?
I do Requestline. A request programme every Wednesday night with my co-presenter Jill Bright. We visit the heart ward each week and the music we play is, shall we say, varied. Black Sabbath next to Mozart? No problem. Although the other week I was asked for a "Gregorian Chant". I thought that was what they did at Argyle.
So, if you ever want a piece of music that is special to you, just ring us on a Wednesday evening 8pm till 9:30pm, 784300 or *800 from your hospedia system. (But as far as Gregorian music is concerned, you'll have to take your chance!"
Steve Glanville,