Jill Bright
---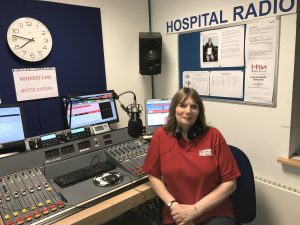 I joined Hospital Radio Plymouth , 22 years after seeing a sign in Lewisham Hospital while visiting my grandad and thinking I would love to do that, oh well, better late than never.
I started by putting on CD's for Gordon Millar's Classical hour and they could see my potential and offered me my own show in 2003.
This show was called 'Your Song' and I enjoyed doing this on a Friday evening, until Keith Jolley, Programme Controller, suggested that me and Steve Glanville should get together to co-host 'Requestline' on a Wednesday evening and I haven't looked back.
I love visiting Bickleigh ward with Steve and getting requests for the show – my favourite bit, apart from getting the request,is going into a silent ward where no-one knows each other and leaving to laughter and patients talking about their favourite music and maybe they find something in common with life in general.
'Requestline' has been nominated four times at the HBA (Hospital Broadcasting Awards) for 'Show with multiple presenters' and in 2015 we won the Silver Award. Steve doesn't do the show for awards, but I do, so it sits proudly on my mantelpiece!
I have always loved the media of Radio since I received my 1st radio from my mum when I was 12, those were the days when you could pick up the police signals, but now I listen to all kinds of music, and also like the comedy on Radio 4 extra and the World Service for all sorts of News Items.
My favourite music has always been the easy listening type and my favourite singer is Matt Monro, but I will listen to all types at various times of the day – I've just discovered Northern Soul!
If you find yourself in Hospital please give us a call, we would love to play your favourite piece of music, or just tune into Hospital Radio Plymouth and enjoy the variety of shows.
Jill Bright,