Hartor day room gets a refurb
5 April 2017 Hospital News
---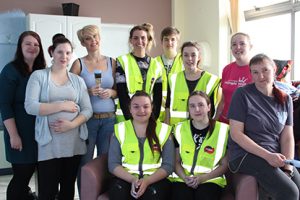 Ooops, missed a bit 😉
Not really! The students from St John Hunt Community College are doing a great job transforming the day room on Hartor Ward, making it fit for patients, especially those with dementia, to use and enjoy.
Last year the students transformed the patients' day room on Brent Ward and they were so pleased with the difference they made, the offered to come back to the hospital again.
Adele Dodd, one of the Year 13 students, said: "We've been planning this for months. It's a really satisfying thing to do. We were told that many of the patients have a military background so we've chosen a nautical theme and we are going to use a ship's wheel."
Friend and fellow student, Katie Lyons, added: "We're painting it blue as part of the nautical theme and also because blue ties in with the logo colours used to show somewhere is 'dementia friendly'. We've got lots to do in two days."
Careers Advisor Sarah Newberry explained: "We try to develop life skills in our Year 13 students and the skills they will need to be employable, such as planning, working in a team, managing a budget. So we gave them a £1,000 budget and they've had to plan everything. They're doing really well."
They certainly are and we're really looking forward to the end result – especially Ward Sister Teresa Beer, her colleagues and most of all, patients in Hartor, which is a men's ward.
A big thank you to all the students and staff involved! It's amazing the difference a lick of paint and refresh can make.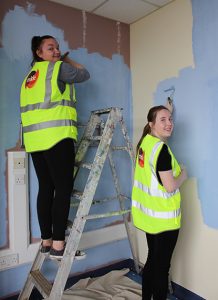 ---