Bowel Cancer West Grand Tour visits Derriford Hospital
31 March 2017 Hospital News Local News
---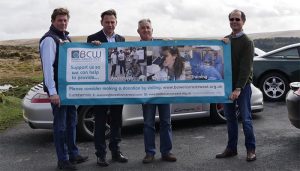 On Monday 3rd April 2017, a fantastic collection of supercars will be driving a crucial message from Lands-End to Bristol for a super cause.
The 'BCW Grand Tour', led by local charity Bowel Cancer West, will include a Lamborghini, a Porsche and the 2016 winner of the Crumball Rally, to draw attention to bowel cancer in the hope of saving lives during Bowel Cancer Awareness Month, taking place in April.
The tour will be visiting eight major hospitals in the region and will arrive at Rowan House, which is situated on the Derriford Hospital site, on 3rd April at 12pm.
Mark Coleman, Chairman and Director of the Charity and Consultant Colorectal Surgeon at Derriford Hospital, said: "It will be great fun driving these incredible cars but there is a very serious message we are trying to get across to people, that bowel cancer can be cured in over 90% of cases if caught early.
"During our tour, we will be passing life-saving advice for anyone experiencing irregular bowel habits, bleeding from the bottom or abdominal pain or bloating, to visit their GP. Likewise, anyone over the age of 60 who receives a free NHS test in the post must not ignore this."
Bowel Cancer West is a local charity that aims to raise awareness of bowel cancer, supporting local research into bowel cancer and funding education of nursing and medical staff with the aim of improving care.
To find out more about the charity, please visit http://bowelcancerwest.com/
---